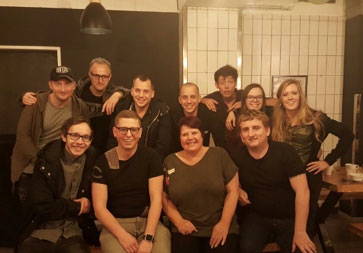 The First Escape Room Rijswijk Blog
It is finally time. The New Adventure of Escape Room Rijswijk has finally started! And that is the reason why we will keep you up to date with writing a blog. This way, we can keep you posted of all the progress.
But who are we?
This first blog should start with the question: who are you?
Well… We are Escape Room Rijswijk, an escape room that is centrally located near The Hague and next to the highway.  With the three rooms we have got, we are one of the biggest escape rooms in the South of the Netherlands.  Because of our central location, we have been able to lock up a lot of escape room fanatics coming from The Hague, Zoetermeer, Utrecht, Rotterdam and so on….
Our team exists of members with different ages and we all work hard to give every visitor a great experience! Above all, there is one big passion we all share: we love to play escape rooms ourselves. Some of us have played over a hundred rooms, others just started and played around five rooms. But secretly we all kind of became escape room addicts…
At this current moment we have got three rooms at our Verrijn Stuartlaan in Rijswijk. Jack The Ripper, The Hangover and Jason's Curse. Quite different themes as you can read! On top of it: our Jason's Curse room brought us the third price of the 'Escape room of the year' election last year in 2018.
Are you curious about what other people think of us? Check it out at:
https://escapetalk.nl/escaperoom/the-escape-room-rijswijk/
But after all this success, it was time to start a new adventure! We took the plunge and went looking for a new location to become the biggest escape room in the South of the Netherlands. And we have found it!
Imagine… A 950 square meters basement, with next to the wall some old kettles that remind you of a certain smell but that you can't seem to define yet… A ceiling of at least 5 meters high and just a few windows that will let through a bit of sunlight…
How cool is that?!
Are you excited about what we will be doing at this new location? Than get ready for our next blog with all the information and inside outs of "The New Adventure"!