Blog 3 – Our old location
The previous two blogs were mostly about our new location but, what happened with our old location?
January 2016 the day finally came that Escape Room Rijswijk opened their first escape room, Jack the Ripper, located in a building on the Verrijn Stuartlaan in Rijswijk. Escape rooms were becoming popular and Jack the Ripper turned out to be a success. Shortly after we opened our doors we started building The Hangover, which opened in May 2016.
Because our old location ran out of space to build we decided to move to a new location where we opened The Execution but there is more!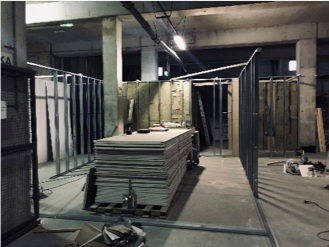 We've decided to relocate Jack the Ripper and The Hangover! Escape rooms back in 2016 were completely different from what they are now so we've chosen to upgrade our rooms. The Hangover will mostly just get a facelift for the decoration. Jack the Ripper however will get a bigger change. Both in decoration as in puzzles will this room change. Though, both rooms will still be the good old puzzle rooms.
What about Jason?
People who have played Jason's Curse know that we cannot relocate Jason due to how it is build. Therefore this one will stay at our old Location at the Verrijn Stuartlaan.
Winning in November!
Furthermore there is news about November! We will turn this month officially into 'winning in November'. The concept is simple. Every Wednesday during November a puzzle will be posted on our Facebook and Instagram. Entering will give you a chance of getting a 20% discount on your visit at Escape Room Rijswijk.
All you have to do to enter is leaving a comment. Small hint: we randomly pick our winners. If you increase the amount of comments from your team you have a bigger chance of winning!
And that's it for our third blog from Escape Room Rijswijk. We are curious as to what you think of our blog. Tips, tricks, questions or maybe topics you'd like us to talk about? Email us at bart@outerground.com